I oversee the design team at the UMBC Student Events Board.
may 2020 to present
I manage our team of three designers at UMBC's Student Events Board—abbreviated (seb). We're a team of around 20 student leaders who plan and market events on campus. I joined in April 2019 as a member of the design team and was elected Vice President of Design in May.
---
—virtual event designs
SKILLS: ILLUSTRATION, BRANDING
TOOLS: ADOBE PHOTOSHOP, WACOM INTUOS TABLET
Because UMBC's campus closed after the COVID-19 pandemic began, we moved events virtually, mostly over Instagram. This made the need for engaging and impactful visuals all the more important, so our designers have begun making more detailed graphics & illustrations tailored to each event. We work closely with the event programmers to understand their vision, and with the marketers to understand how best to maximize each post's impact. These are a few of the illustrations I've made since March:
---
—series marketing
SKILLS: ILLUSTRATION, BRANDING
TOOLS: ADOBE PHOTOSHOP, ADOBE ILLUSTRATOR, WACOM INTUOS TABLET
(seb)'s events fall into five monthly series: Recipes, DIY Crafts, Interactive Posts, Fridays on the Field and Saturdays with (seb). For each series, we design a set of graphics for our different platforms: Instagram, our campus portal's event portal, and Facebook. Here are some of my favorite designs:
---
—spring 2020 calendar booklet
SKILLS: BRANDING & IDENTITY, ILLUSTRATION, TYPOGRAPHY
TOOLS: ADOBE ILLUSTRATOR, ADOBE INDESIGN
In January 2020, I was tasked with designing the booklet that displayed the upcoming semester's events calendar. These booklets were designed in black and white, except for the covers, which were printed on colored paper.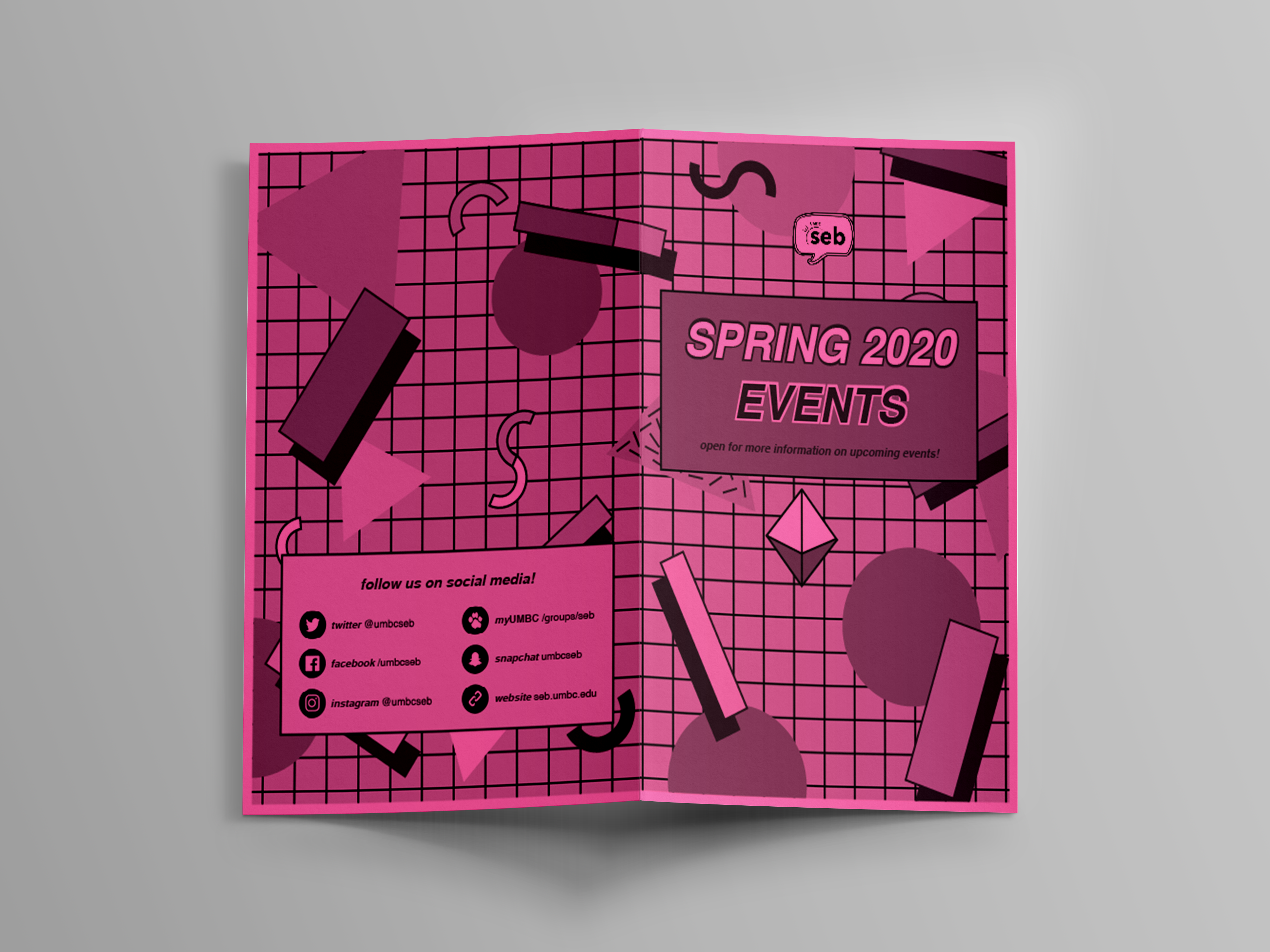 ---
—weekly event flyers
SKILLS: BRANDING & IDENTITY
TOOLS: ADOBE PHOTOSHOP, ADOBE ILLUSTRATOR
Before the pandemic, I designed flyers for on campus events hosted by (seb). I strove to make each one unique, engaging & eye-catching. We received assignments on a weekly basis—one design a week, and we typically had about four days to turn in a design to get feedback. After that, we had 24 hours to make any required changes. I always pushed myself to try new styles and ambitious designs, while still keeping them all recognizably from (seb). Here are a few of my favorites:
---